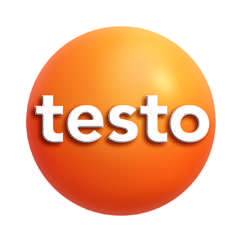 Testo AG. the German manufacturer of digital measuring devices to measure physical and chemical quantities – such as:
(Measurement of the temperature by contact sensors and the measurement of temperature by infrared technology , Thermal Imagers, measurement of relative humidity, storage temperature and relative humidity data loggers, measuring multiple functions, measure the speed and quantity of air, measuring the differential pressure, measuring the intensity of sound and light, measuring the rotational speed RPM, gas analyzers for measuring exhaust flue gases …. etc.)
– Based company Testo on a distinguished group of experts who are continuing research in the fields of physics, chemistry and microelectronics is also cooperation with universities and technological institutes in the research to reach the highest levels of accuracy and sensitivity to customer service.
– Working Testo with many stakeholders to confirm the quality so as to ensure the safety of production standards and calibration certificates are issued calibration specialist in collaboration with ISO and DKD and is also examining devices and sensors on a regular basis in the specialized bodies such as NISI in order to confirm the continuity of an exceptional level of service.